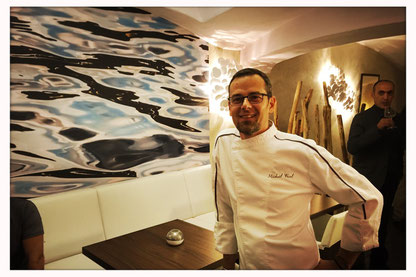 Last night I was invited to the inauguration of the new Mickaël Féval's Restaurant in the old city of Aix-en-Provence. Mickaël is a well known chef who won a Michelin Guide star in 2011 as head of the Pigonnet's restaurant (a 5 star hotel in Aix-en-Provence).
With his wife Olivia, he has had the project to create his own restaurant, in the very center of Aix-en-Provence. This dream has now come to reality and you will be able to book a table starting from tomorrow noon !
I am very honored as one of my photographs, "Petroleum mix", from the series "Reflections on water", is placed on a very central wall in the restaurant. You will also be able to see the pieces of various artists, members of "Espace 361", a collective of artists temporarily exposed at the restaurant.
More information at : http://mickaelfeval.fr/