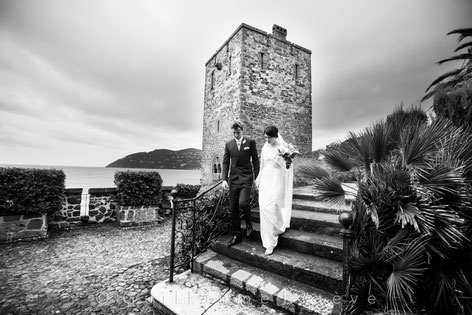 This week-end I was covering a wedding in a beautiful place, Mandelieu, near Cannes (Côte d'Azur). Unfortunately the weather forecast wasn't predicting great conditions and I left home under a huge storm which lasted until after Aix-en-Provence.
But then, things seemed to get better : cloudy sky, a few drops, but that was about it. The newly weds were really beautiful as was the ceremony. We managed to take a few pictures at the Château de la Napoule where the reception took place. Such a wonderful place ! It is really worth visiting, and one can do so during the whole year.

Unfortunately it started raining again during the cocktail and at about 8 pm things got really crazy... Lights went off, water started penetrating through the ceilings and the doors... No one  could tell if the party would take place or not. It lasted for about 2 hours and then it finally calmed down. Fortunately the lights were back and everything went perfectly well in the end.
We were hearing here and there that things were really bad outside and I decided not to go home the very night, it didn't look safe enough. It is only on the next morning (yesterday) that I measured the extent of the damages as I left the hotel. Cars piled up, mud all over the place, roads blocked (even the highway)... On the radio I heard that just in Mandelieu five people had been found dead during the night... More than ten in the department... I guess we all were very lucky at the wedding...